Prof. dr Goran Marković EN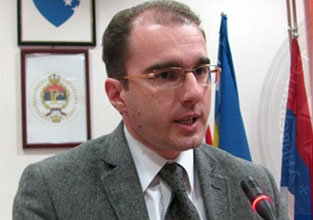 Name: Professor Goran Marković, LLD
Academic rank: Associate professor for the scientific field of constitutional law
E-mail:Ova adresa el. pošte je zaštićena od spambotova. Omogućite JavaScript da biste je videli.
Telephone: 057/226-609
Office: 84
Courses: graduate courses in Constitutional Law I and Constitutional Law II and postgraduate courses in Comparative Constitutional Law and Electoral Law
Student consultation hours: during lecture hours and exams
Born on February 9, 1978 in Bijeljina, Bosnia and Herzegovina. Graduated from Faculty of Law, University of Belgrade in 2001. Earned his LLM degree at Faculty of Law, University of Belgrade in 2005 with thesis titled Participatory Democracy in Developed Civil Societies; Ideas and Experiences. Defended his doctoral thesis titled Federalism in Constitutional System of Bosnia and Herzegovina at Faculty of Law, University of Belgrade in 2009.
He has worked at Faculty of Law, University of East Sarajevo since 2007. Was elected assistant professor for the scientific field of constitutional law in 2010. Was elected associate professor for the same scientific field in 2015. Teaches graduate courses in Constitutional Law I and Constitutional Law II and postgraduate courses in Comparative Constitutional Law and Electoral Law.
Since 2011 has served as vice-dean for scientific and research work; since 2015 has been member of the Senate of the University of East Sarajevo. He is on the editorial board of journals Yearbook of the Faculty of Law in East Sarajevo, Central and Eastern European Studies (Athens, Greece) and Journal of Contemporary Central and Eastern Europe (London, GB). Serves on the board of directors of European Organization for Public Law and Serbian Law Club (Belgrade, Serbia). Member of Association Autogestion (Paris, France), Association of Legal Professionals of Republic of Srpska and International Institute for Self-management.
Author of two books, co-author of a university textbook; author of 71 academic papers. Fluent in English language, has working knowledge of French and Russian.